Ductwork Replacement & Repair
Our Most Common Issues With Ductwork
Dirty Ducts Spreading Dusty Air
Foul Smells Coming From Ducts
Not Cooling/Heating Certain Rooms
Cooling/Heating Rooms Too Much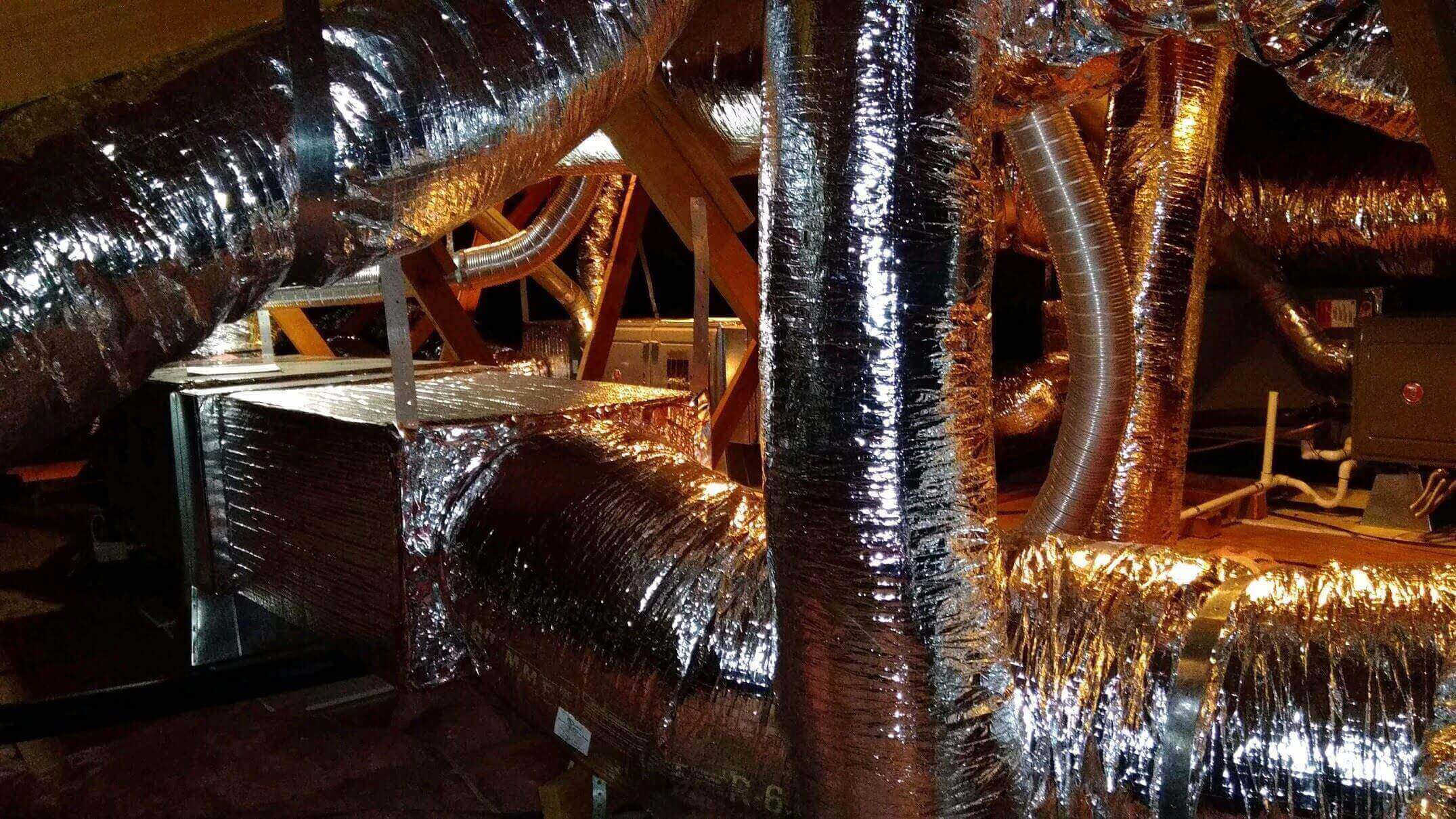 What Is Ductwork?
The duct or ductwork refers to the sheet metal or tubes that's transfers the cool or warm air throughout your home or office. It can be made from metal or insulated flexible tubes.
Why Is My Ductwork Important?
Without ducts a traditional air conditioning & heating system will not be able to transfer the cold or hot air around your home. Most homes that were built after 1985 have flexible duct work that was usually made of gray plastic like material on the outer shell. Newer ductwork will have a silver material that looks similar to tin foil. Some older homes that only have a heating system will have metal ducts that are wrapped in asbestos.
Your ductwork is more important than the air conditioning and heating equipment. That's because without a way for your cooling system to removing the heat from inside on hot days your home will never cool down, this is where ducts come in. Just any old duct won't do though, you will also need to have the right size and types of ducts to efficiently supply cool air to each room.
Most existing air conditioning and heating systems can improve the performance by properly fixing or replacing the ductwork before replacing the exiting equipment.
How Do I Know If I Have A Problem?
Hot and cold spots in the home is the number one problem you will notice with incorrect sized or leaky air ducts.
High utility bills usually go hand and hand with bad ductwork in the home, if you have a relatively newer unit that's less than 10 years. If your heating and cooling your attic, you're wasting energy all year long. Worst if your sucking in air attic your breathing in dirty dusty air. Also, you will be cooling the hot air from summer heat.
Dirty air vents are a big sign that you have duct issues, it can mean that your blowing dirty air from the attic or you have an air leak behind the vent itself.
What Does Your Ductwork Do?
• Your ducts move air from the furnace or air conditioning to each room where there is a vent.
• Without ducts, your air would just blow into the attic or your closet and not into individual rooms.
Why Your Ductwork Is Important
Your ductwork is important because it moves the air from your HVAC system to your rooms. The installation of the ductwork keeps the cold air in and the hot attic air out in the summer and keeps hot air in and cold air out in the winter.

100% Satisfaction Guarantee
Our goal is to make you 100% happy. If you are not 100% satisfied in the first year we will do everything we can to remedy the situation. If you are still not satisfied we will remove the system we installed and give you a refund. In the last 10 years we've never had to refund any money. We take our guarantee seriously, we do whatever it takes to make you happy.
Why Us To Fix or Replace Your Ductwork:
We are licensed by the state of California to repair, install and design ductwork systems for homes office and commercial buildings. 
We always offer a 10 year warranty with all our ductwork installation.
We  have been installing and providing new duct system for Southern Califonia since 2008
What To Expect on Your Free Consultation:
We will listen to your needs.
Evaluate your home's or office indoor air needs.
Show you the value of why we are the best in the industry.
Provide you with a custom comfort solution for you and your home or office.