Heating Installation in and around Santa Fe Springs, CA
Enjoy a Money-Back Guarantee and a Care-Free Warranty of up to 10 years. Call Comfort Time to get a free estimate.
100% Satisfaction Guaranteed
When Comfort Time Heating & Cooling installs new heating systems, we provide a great customer experience. In over 10 years of service, we never had to refund a customer because our work is consistently excellent.
Call us today or schedule an appointment via our online form.
Book Your Appointment
Schedule your heating installation now to make your home snug and warm again.
Our Furnace Installation Process
Get in Touch. Talk with our live representative to schedule your installation. We answer our phones, even on holidays. You could also fill out our online form.
Get a Free Estimate. We'll give you a free estimate for the heating installation.
Confirm Appointment. Before we arrive, we'll call you first to confirm the appointment.
Install the Heating System. We'll show up on time, in uniform, and with every piece of equipment needed.
Complete the Service. We'll give you the receipt and explain the warranty.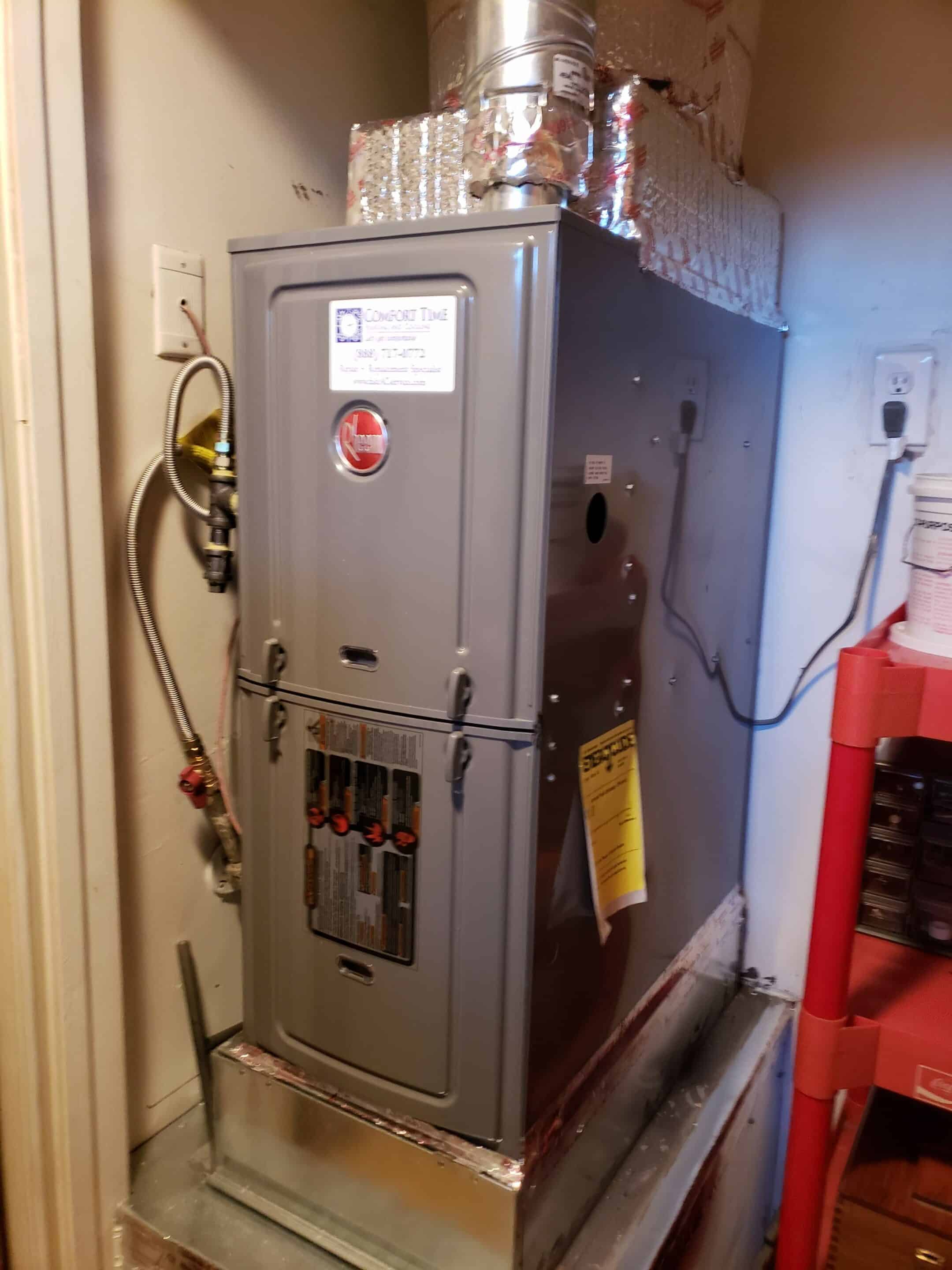 Save More with Comfort Time
Maximize your savings with Comfort Time. Take a look at our discounts and offers.
Why Comfort Time Heating & Cooling?
✔ No Money Down.
No money down until we've installed your furnace.
✔ Post-Installation Inspection. We do a 37-point HVAC inspection after installation.
✔ Licensed. We have an updated C-20 License in the State of California.
✔ Insured.
We carry general liability insurance and Worker's Compensation Insurance.
✔ First-Class Contractors. Our technicians do the work. No subcontractors.
✔ Trusted HVAC Company. 90% of our work comes from referrals.
What should a heating installation quote include?
A quote for heating installation should have a list of line-items with descriptions, as well as service inclusions and exclusions. We'll provide a detailed quote so you know what you're paying for.
What heating system do you install?
Comfort Time partnered with Daikin, recognized as the world's leading manufacturer of HVAC equipment and refrigerants, and has been in the industry for over 90 years. We're proud to be a Private Label Dealer for Daikin, enabling us to offer our customers the best HVAC systems.
What are the warranties and guarantees for heating installation services?
We offer a 10-Year Care-Free Labor Guarantee for all our heating installation projects. We also offer a Money-Back Guarantee—we offer refunds in case our customers are not satisfied with our work.
What happens if there are problems with the system after receiving your service?
Our goal is to make you satisfied with your furnace, so if you're not happy within the first year, we'll do everything to fix the problem. If you're still not satisfied, we'll remove the system we installed and give you a refund. However, in the last 10 years, we've never had to refund our customers because of our quality installation work.