HVAC Tune-Up Services in California
Our HVAC Maintenance
Travel To Your Home
Furnace Evaluation during winter
Air Conditioner Evaluation during summer
Standard Filter Replacement
21 Point Inspection and Cleaning Of HVAC System
Money Back Guarantee If You're Not Happy
Upfront Flat Rate For Service
1-Year No Break-Down Guarantee or Your Money-Back!*
Get Peace of Mind for a whole year and stay comfortable 24/7!
This comes with our Epic Customer Service! We want to be your #1 choice for HVAC services for life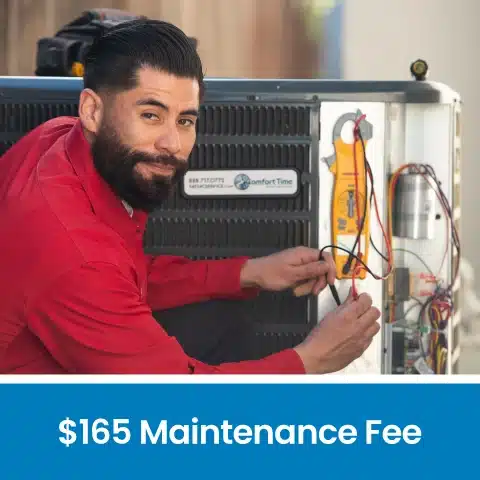 *If your HVAC breaks down this season for any reason after our tune-up, we'll credit the cost to a future HVAC repair
The Best Home HVAC Maintenance Around 
Need a home or commercial conditioning & heating maintenance? We can help, we provide HVAC maintenance and Tune-ups to air conditioning and furnace equipment in our service area. Our air conditioning maintenance will help clean your indoor air and extend the life of your HVAC system. When you call us to tune-up your heating or cooling system, we will give you a complete report and status of your systems with all recommendations needed. Our service HVAC maintenance usually takes about 60 minutes to provide the service depending on what's required to get done.
When you choose us for your office or home HVAC maintenance, you will always get our Money Back Guarantee. We want to give you the peace of mind and know that we care about your experience. You can feel confident that you're going to get the best customer service possible and technicians that know what they are doing. It's our policy to when it comes to air conditioning and heating maintenance to always provide honest and needed recommendations only. Our service techs are trained to properly clean out your HVAC system and make sure your AC and furnace are running properly not just hot and cold.
Getting regular maintenance for your home air conditioning system will save you money. Getting home HVAC maintenance can prevent break downs, increase the life expectancy of the heater and AC and bring down your utility bills. Have your air conditioner maintenance before regularly or before cooling season starts is key to having reliable cooling all year long.
We will check for large refrigerant leaks, blow out the condensation drain lines, change our the filters, check for large air leaks in the attic. Make sure all electrical connections are tight. Provide you a complete report on what we found with any recommendation needed to get your HVAC system running at 100%.
The process to get home air conditioning and heating maintenance with us is super easy. Just call us and we will set an appointment to get it done. We do all the hard work for you. All we need is someone to be at the home at the time of service.