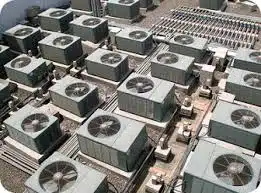 This seems like a pretty straight-forward question that has a specific answer. The truth is, just about every HVAC company out there will tell you should have your HVAC equipment serviced regularly. But, what does "regularly" mean, exactly? The answer is, that every building and HVAC unit is different and how often it should be scheduled for maintenance depends on several factors. Consider the following five points when determining how often your building requires commercial HVAC maintenance.
Age of Existing Equipment
In a perfect world, your building would have a top-of-the-line, new HVAC unit installed, which would require minimal maintenance. However, this is not always the case. Many buildings are equipped with an older unit. Regardless of the age, however, a good rule of thumb would be to have an HVAC professional service the unit at least twice a year. Ideally, this would be in the Spring and Fall, just before the heaviest demands will be put on the equipment. That said, older units may need additional servicing after the season to assure that it stays in good working order.
Demand on Cooling and Heating System
The more often you use your HVAC system, and the harder it works, the more often it will need to be serviced. The age and size of your building, materials it's constructed from and how well it's insulated all contribute to your unit's efficiency. Other factors that determine the amount of demand are the number of people who use the space and how many hours a day it's used. In addition, fluctuations in temperature outdoors can have a major impact on your unit. When faced with extremes for any of these factors, it may be wise to have your unit serviced more than twice a year to assure it's in good working order.
Building Lease Requirements
Commercial building leases are full of requirements that must be met in order to fulfill the contract. Some items in a lease are meant to protect the property from reckless tenants, while others are intended to keep the building in good working order. Such is the case for HVAC equipment maintenance. You could be required to have the unit serviced annually, bi-annually, or even quarterly, depending on the landlord. Be sure to check your lease and schedule maintenance calls in advance to avoid voiding your lease, or incurring penalties.
Type of HVAC Equipment
Another factor that will determine how often you should schedule maintenance is the type of HVAC equipment that is being used. There are four basic types that are common; split systems, hybrid split systems, duct-free systems, and packaged systems. Split systems have multiple components, some indoors and come out. External components are exposed to the elements and may require more frequent maintenance than interior components. Rooftop units are also vulnerable to harsh weather, meaning they need a little extra TLC.
How Often Filters Get Dirty
Your HVAC system's filters keep harmful dust, dander, and pollen from invading your building. When they get dirty, it reduces the amount of air that can flow through the system, thus making it work harder. Retail establishments, office buildings, housing complexes and other buildings that have a lot of foot traffic tend to require filter changes and other preventative maintenance often. This assures that the air quality inside the building remains at the highest possible levels, keeping employees and customers safer and healthier. Likewise, buildings that are used infrequently can go longer between filter changes.
Keeping your HVAC system well-maintained is the best way to guarantee that it continues to provide proper levels of heating and cooling. If you're not sure how often your unit should be serviced, feel free to contact us. We will be happy to send out one of our highly trained HVAC experts to evaluate your building's systems and we'll recommend the most appropriate maintenance schedule for your system.
Give Comfort Time a call at (562) 245-9609 for all your heating, cooling, ventilation, and refrigeration needs! Our service area includes Downey, Hacienda Heights, La Habra, La Mirada, Norwalk, Pico Rivera, Santa Fe Springs, and Whittier.